Synopsis: A 14-year-old girl with a scythe, cutting circles around a tractor equipped with a mowing machine! Far-fetched? Today – perhaps. Tomorrow – the use of simple hand tools will make increasing sense in direct proportion to the rising costs, economic and otherwise, of operating oil-dependent machinery. Long live the power of human bodies!
Credits: Alexander Vido (camera) Greg Hemmings and Jesse Cottingham (editing).
Music: "Blowin' in the Wind" © Bob Dylan.
---
The documentary film Living Lightly is now viewable on Youtube.
The entire film, with Czech subtitles, can be watched here: https://www.youtube.com/watch?v=sfhrZAfYZ9c
It is also posted in four parts, by LivingLightlyfilm – Part 1, Part 2, Part 3, Part 4
Fairlight's scythe form is also posted here.
---
Trimming grass with a Scythe is a few short scenes of Ashley mowing under an apple tree by the edge of our garden.
---
Haymaking videos
"Hay in a Day"
Part 1 shows the step-by-step progression of turning freshly mown grass into hay in the span of one sunny day, and Part 2 shows putting that grass onto a rack for further curing before bringing into the barn.
The Hay Pusher
Perhaps a less explanatory title… 🙂
This video shows a few short scenes of gathering rows of loose hay into piles using an uncommon "pushing" technique, then a couple scenes of loading that hay onto a pickup truck.
---
To some of you it may appear as if over the years Peter Vido has, with regard to peening, presented mixed messages. On one hand he has fussed about the exact shapes and surface finishes on faces of hammers and anvils, and criticized the products sold by some companies that do not meet those high standards. On the other hand, he suggested that — if given an emergency — a scythe blade can be peened on the surface of a steel boot scraper with just about any ordinary hammer.
On April 1st, I walked out to see what piece of steel is sticking above the still generous amount of snow covering this geographical niche of Canada, something of a shape that a scythe blade's edge could be serviced at on. An inviting contraption — a 1946 Farmall H tractor — caught my eye…
The blade was a brand new specimen with the sort of edge finish that may well represent the global average offered nowadays — sporting those steep micro bevels.
The hammer used was a no-name brand of 16 ounce carpenter claw-style. (I did not search through our stock of various 'non-peening' hammers; this was one of the two close at hand and the one with a somewhat less banged-up face). Other than slightly smoothing the face (with the synthetic stone) I did no re-shaping of it.
The worn ice cleats scattered over the chain rings in various positions and angles provided an interesting 'experimental peening playground'.
Had there been grass to mow around that tractor we'd have shown how a blade peened on such an inappropriate set-up can actually cut.
---
From Lawns to Gardens ~A radical hoe for our radical times~
Click image for video
---
Trimming evergreen trees with a "grass" blade
There is a diversity of cutting techniques demonstrated here, but rather than instructional per se, this few short clip is meant as a satire challenging the "brush blade mentality". We purposefully used the lightest (in relation to length) blade from those previously sold in our catalogue (370 gm., 65cm.) and a homemade willow (Salix alba) snath weighing 1 1/2 lbs.
Watch the video here
---
Mowing a lawn with a scythe
We made these short clips for the benefit of a popular writer who claimed great fondness for the scythe, yet still believed that it was a tool for the cutting of tall grass  buy provigil fast shipping only — and consequently recommended that people wishing to ready themselves for the transition into post-carbon reality (or let's just say "sustainable living arrangements") and if they wish to keep their classical lawn, obtain a reel mower. We, of course, disagree…
Admittedly, there is some justification for the (erroneous) notion that to maintain a short lawn a mowing machine or at least a reel mower is necessary; especially so if it's a lawn which is walked on a lot, because even during their short life the grass stems will have been pushed over in all directions, thereby making scything more difficult. Besides, a stand of grass cut or grazed frequently is usually quite dense, which adds to the challenge. Attempting to do the job with less than a very sharp scythe blade, you might as well try to whistle the grass away… But this is precisely the case with many novices — they use a blade sharp enough for tall grass or "weeds" perhaps, yet inadequate for a lawn. Secondly, they often mow during what seasoned scythe users in all agrarian cultures considered the "toilsome" hours, in the mid-afternoon. Thirdly, they haven't learned how to "hug the ground" with the blade. Given the lack of success, they conclude that the scythe in general is poorly suited to lawn cutting.
Well, these short amateur videos are meant to demonstrate that a scythe can be a fine option for at least the ecologically-minded lawn owners of today — provided they are willing to learn how to use a hand tool well enough. Here are some hints:
The first prerequisite is an adequately sharp edge. (Many pages of explanations/instructions are available on this website — and we dare to say that more comprehensive written material on this topic does not exists anywhere else, certainly not in the three languages we can readily understand and do research in. If any of you think otherwise — for instance know of a more detailed text in Italian, Greek etc. — please do let us know)
Then, it would help to start earlier. The best time to cut a lawn is early in the morning (before sun-up!) after the stems had a chance to stand up a little overnight and also because in the cool part of the day they are more easily severed. Yes, with a well-peened scythe it can be done at high noon if need be. Novices, however, are thereby asking for more of an unnecessary challenge.
The next ingredient to success is good technique. Specifically with regard to lawn- cutting, additional downward pressure should be applied as the blade is slicing. This does not mean the pressing of the edge towards the ground any more than usual; rather, it is the blade's "belly" (the centre of the blade's body) that should press against the ground.
What Ashley is cutting here are various areas of our homestead's yard, all of which are trimmed several times during the season when still relatively short — and always to ground level.
Scything lawn-length grass shows the mowing of the "traffic zone" — which is trampled nearly on a daily basis by people, animals and vehicles. It is therefore cut most frequently, whenever it reaches 8 to 10 cm of growth, down to nearly nothing. Notice that Ashley is leaning forward somewhat more so than otherwise. The reason? As explained above, this very short and trampled grass requires the application of  purchase Lyrica from canada extra downwards pressure.
Scything with a single-grip snath show the mowing of an area which we try to avoid trampling much, and usually cut at about 30cm of height.
In these scenes an 85cm blade was used. The swath width is approximately 270-280cm and forward advance at a stroke 20-25cm.
---
Scything "crop circles", unlike most of our other videos, does not demonstrate what we consider to be proper scythe use.
---
A Good Scythe at Work
Click here to watch on YouTube.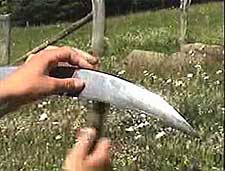 Short scenes demonstrating the versatility of a good scythe in diverse conditions–from "lawn" and field cutting to an "obstacle course" requiring precision mowing techniques. No audio — it got lost in the editing process. Some of the mowing is done by Ashley and Fairlight Vido. When this video was shot in 2003, they were 10 and 13 years old and already good mowers. They are not expending a lot of energy, because they have good tools and have learned the skill.
Video credits: Fairlight Vido, Greg Hemmings, Todd Snyder and David Patriquin.
This short film is a temporary substitute for a good, full-length instructional video on hand mowing. We were advised that for a video to be easily downloaded, and also to accommodate modern attention spans, the length should not exceed five minutes. Attempting at the same time to present a variety of possible applications, most scenes are shorter than the ideal. However, it serves as an introduction for those who: a) have never seen the scythe being used at all, and b) have always thought that this is a "man's tool" and cannot imagine how it can be wielded by a 10 year old girl. As well, it will demonstrate that a scythe can be used to cut very close to obstacles and reach places where a sicklebar, a rotary mower, or a string trimmer cannot — regardless of the height of the grass.
---
For some great videos on the harvesting of grain in Nepal using sickles and grain cradles, check out Alexander Vido of ScytheWorks' youtube channel, and for more info and photos, please take a look at the Scythe Project In Nepal page.

---
Modified June. 2015