Recently posted or updated pages, organized by date. (Note: Minor modifications are not listed here. For the most recent update, check the end of each page for "date modified".)
After approximately a year (during which period we've taken on-and-off shots at a fundamental re-design) we are relieved to finally present the new version of ScytheConnection. Still, we have to humbly report that had it not been for the devilishly patient help of a Tasmanian who calls himself "mr.office" with the technicalities of website design, it would not be here yet… (Thanks mate!) The contents is still a work in process; but of course, it always was just that. A portion of our previous site's material has not been 'completely' reorganized, much of it not yet revised or updated (as learning on any subject ought to be) and some stuff has not been moved over from the old site to new. However, there are already several hundred pages here — of both user's guidelines and related food for thought of depth not presented 'under one roof' anywhere else.
Sept. 15th 2013
Check out the coolest website in all of scytherspace, er, cyberspace; brand new awesome BladeRunners!
March 17th 2013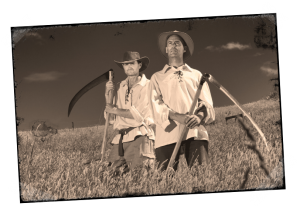 Our retail catalogue is closed. If you wish to buy a scythe, we recommend that you order from ScytheWorks if you are in North America; otherwise, see more options here.
Feb. 2013
For some wonderful videos on the harvesting of grain in Nepal using sickles and grain cradles, check out Alexander Vido of ScytheWorks' youtube channel, and for more info and photos, please take a look at the Scythe Project In Nepal page.

Jan. 2013
---
Due to something of an "internal crisis" this website has been more or less on low speed auto-pilot for well over a year. Late as it may now be (in view of what is still 'realistically possible') we begin to catch up…. slowly.
But before adding the imminently practical content, we wish to:
a) Publicly acknowledge the scythe passion and accomplishments of Niels Johannsen from Denmark — and nominate him as the "Mower of the Decade".
(Photo by Michel Schaumburg)
b) Congratulate Alexander Vido of ScytheWorks for the necessary perseverance to implement his years-long vision: to bring the gift of the scythe to people he believes need it ~ Scythe Project in Nepal
24 Jan. 2012