Site Contents
---
About Us

Contact Us

Events

Products

Scythe Buyers' Guide

Technical/
Instructional

Updates

Video


---
Home
Essential Tools
The Magna Grecia Hoe



Leonard Lee, the founder of Lee Valley Tools, has a talent with regards to promoting the tools his company sells. In their catalogue under the "Sliver Gripper" tweezers he wrote: "Some tools are hard to describe because they are so good that an accurate description sounds like a carnival snake-oil pitch".

Now, after several seasons of extensive use, we believe that if Mr. Lee would have come across the Magna Grecia hoe and actually tried it out, he would place it on his list of tools fully deserving the "snake-oil pitch". Of course, apart from design itself, a man of his caliber as "tool expert" would evaluate the material and temper-related properties of this uncommon groundbreaker.
You see, the quality line of the Falci's hoes is made of special tool steel with extra silica content to provide high abrasion resistance, and then hardened to 52-53 RC. This can't be said of many hoes on the Western market today, if it ever could... (Note 1)

Although we "discovered" the Magna Grecia on the dusty shelf in a far away factory and were the first to test it out on Canadian soil, it is thanks to Joel Dufour of Earth Tools, KY (who purchased the entire lot of them from Italy) that they are, for now, available on this continent.

Besides Earth Tools another source within USA is Steve Leppold in Oregon who would prefer not to mail them but instead will offer them locally on a donation basis (with a check for the listed price made out to a nonprofit chosen by Steve that works toward food security). He may be contacted at steveleppold(at)yahoo(dot)com

In Canada it can be obtained also from ScytheWorks.

The price per hoe (or handle) at each of these sources is the same. The shipping costs vary, of course, sometimes considerably... Still, it makes "ecological sense" to order from the geographically closest source. There will be exceptions, as in cases where a US resident orders a scythe from us and the hoe can take a "free ride", so to speak. Conversely, if a Canadian is already getting other tools from Earth Tools it would be more economical to order this hoe from them.

Complete tool; $50 - OUT OF STOCK
Head only; $35 (from eye to points the prongs measure 30cm; head weight 1 1/4 kg. /1250 gm)
Handle; $15 (Hickory wood, 1 1/4 by 1 1/4 octagonal profile, 58 inch long (Read more - Note 2)


Retail sellers of this hoe in Europe:

Sweden:
Mats Rosengren
E-mail: pomologen@live.se


UK:
Simon Fairlie
chapter7@tlio.org.uk
http://www.thelandmagazine.org.uk/
http://www.thescytheshop.co.uk/
---
Folding buck saw
24" aluminium frame, copper rivets, wooden tensioner/handle -- $38

More info on the saw and its maker.

Shipping:
1-4 saws; anywhere in Canada: $10
If you live in the USA and especially if you do not plan to purchase anything else from us, it makes more sense to order directly from Bob. Though this old-timer has no catalogue (and also no computer), you can write to:
Bob Dustrude
Box 235
Pengilly, MN
55775

or phone: 218-885-1742

For Bob's 24" bucksaw send $50.00* -- check or money order -- with your mailing address, to the address above. (He sells extra blades at $5.00 a peice)
*US funds. This includes Minnesota sales tax and parcel post in continental U.S.



---
General purpose knives from Mora; the knife-making capital of Sweden
"One of the most useful articles in the hunter's, trapper's, camper's or prospector's outfit is the sheath knife, and... I am inclined to think those who have no use for a sheath knife have never been fortunate enough to own a really good one..."

E. Kreps
(author of The Science of Trapping)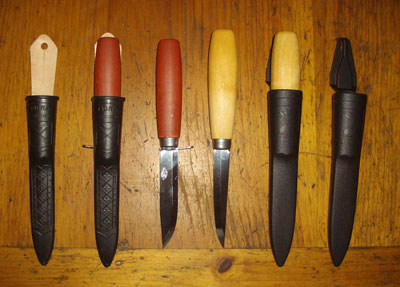 The knife with a finger guard and the red-stained handle [Note: sold out] was made by the Jonsson company, the other by Ericsson (still before it amalgamated with Frost).
Both have 3 5/8" long carbon steel blades and birch wood handles. The edges are very nicely beveled and ready for immediate use. Unlike during Knep's time (cca a century ago), these now come with molded plastic sheaths.

Special offer: $8.50 IF accompanying a scythe order.
Otherwise add $2.00/knife (still an excellent value)
---
Group Discounts for Educational Purposes

Whenever intentional communities, transition town groups, etc. plan to organize hands-on workshops and/or just want to have on hand several "practice scythes" for visitors or beginners to try out, we can put together diverse packages at a discount off our regular prices.
Contact us for details (but please do some preliminary homework beforehand; read information on selecting a scythe here.


---
"A man whose mind is enlightened with a knowledge of mechanical principles, will never bend nor break a spade; his keen perception will tell him, even if he were blindfolded, when the strength of the spade is unequal to the force applied to the handle".
- S.E.Todd, The Young Farmer's Manual, 1860

Of course, this timeless observation applies to women as well as men, and to all other tools besides spades.
---
Shipping rates:
Within Canada:
For one to two complete units - snaths, up to 4 blades, accessories - $40
For one to four blades and accessories: $30
Any other combinations; please contact us.
To the U.S.
$55 for one to two complete units;
$35 for one to four blades with accessories.
Any other combinations, contact us.

Overseas Estimates:
Under 1kg. and up to 80cm long: $50 for surface (6-8 weeks) and $90 for air (10 days). This rate covers a blade and ring, and possibly a whetstone. A 10kg. parcel (80cm length) is $110 by surface or $230 air. Snath shipping is prohibitively expensive: $300-400!
Contact us for a quote, or better yet, find an alternative source here.
Ordering:
All prices are in Canadian dollars.
We do not, and likely never will, accept credit cards or other forms of electronic payment. If you feel moved to bypass the corrupt banking system, sending cash in an envelope is fine. The next most expedient option is a postal money order or bank draft (for US residents: specify an 'International money order'). A personal check takes one to two weeks to clear.
Checks or money orders should be made out to Ashley Vido, (not ScytheConnection) and mailed to:

1636 Kintore Rd.
Lower Kintore, New Brunswick
E7H 2L4 Canada

OR to our mailbox in Maine -- but PLEASE send an email before mailing anything to this address, as we only check it sporadically:

26 North Street, P.M.B. 161
Presque Isle, Maine 04769
---
Jan. 2010
Modified 14 Oct. 2012